Are religious doctrinal differences primarily responsible for stoking intercommunal fear and hatred? What roles have state, sub-state and transnational actors played in fomenting sectarian discord? And what could be done to avert sectarian violence, to foster tolerance and peaceful coexistence, and to promote reconciliation? The essays in this series tackle these and other salient questions pertaining to sectarianism in the MENA and Asia Pacific regions.
Read more
...
Introduction: Burma's Ethnic Cleansing in the Social Media
In the age of Facebook, Twitter and Instagram, netizens around the world view on their mobile phones and tablets the deeply disturbing images of Rohingyas, children, elderly men and women, filing out of Western Burma (or Myanmar) as the result of Burma military's "clearance operations"
[1]
at the rate of 100,000 per week
[2]
for 6 weeks. The power of such imagery has so moved national politicians and senior officials from such world bodies as UN and EU that they have publicly used such evocative, if non-legal term as "ethnic cleansing".
[3]
Gregory Stanton, the renowned American genocide scholar and former U.S. State Department official, who heads the Genocide Watch, has gone so far as to say Myanmar is committing the crime of all crimes, namely a genocide. Stanton states that he is avoiding purposefully the journalistic "ethnic cleansing." For he views rightly the now popular terminology as Milosevic's "euphemism," which is not considered punishable crime in international law.
[4]
Ethnic cleansing is a deplorable act committed by a U.N. Member State and its collaborating non-state actors in society, involving violent expulsion of a target population with their distinct ethnic and racial identity from a particular geographic region within the nation's national boundaries.
[5]
Burma's latest round (each marked by its distinctive methods of expulsion and justificatory ideologies) in what has become a decades-old pattern or cycle of targeted violence and destruction against Rohingyas, is typically accompanied by their displacement and flight from the country.
This essay aims to highlight the scope and rhythmic nature of Burma's persecution of Rohingyas the devastating impact on the Rohingya population. First, it sets out to describe and help readers understand the evolving pretexts given by the successive Burmese governments and the methods of group destruction and resultant waves — five in total — of the outflow of Rohingyas in large number. Then it attempts to offer an interpretive framework within which this cycle of violence-exodus-lull is best understood.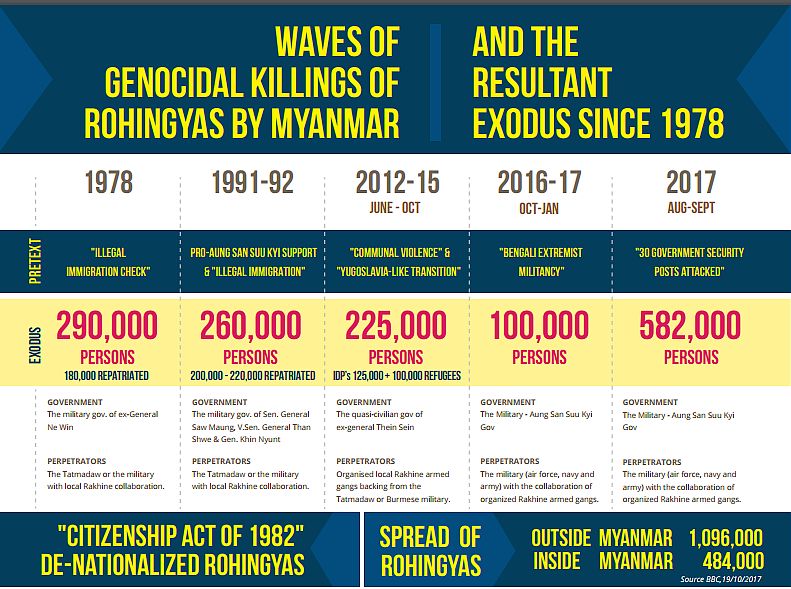 The diagram above captures both the periodic and cyclical pattern of cross-border forced migration of Rohingyas and the biblical volumes of fleeing refugees across Bangladesh-Burmese borders over the last almost four decades.
Two striking features of the diagram are the fixed and instrumental role of the Burmese military as the most powerful perpetrator and the shifting nature of the pretexts on which the operations of violent expulsion (which force large numbers of Rohingyas to flee their homes on the Burmese soil) have been based.
This first exodus was followed by 12-year lull.
More ominously for the Rohingyas, within four years after the violent crackdown on "Illegal immigration" on their ancestral land of Northern Rakhine, they were de-nationalized, that is, Myanmar's military rulers, under the civilian façade of the Burma Socialist Programme Party, effectively declared them non-nationals who did not belong to Myanmar.
Where violence failed to expel them en masse, Burma's generals and ex-generals found the blunt instrument in law reminiscent of Nazi-era Nuremberg race laws ...
In the six-year period following the passage of 1982 Citizenship Act, increasingly pauperized Burma at large gradually plunged into a period of popular unrest, which culminated in a nationwide peaceful revolt in August 1988, calling for the end of the one-party military dictatorship led by Ne Win and the restoration of democracy and freedom for all.
After the military restored "law and order" in the seat of the government in Rangoon and other major urban centers throughout Burma, they turned their attention to the growing popular support among Rohingyas for Aung San Suu Kyi's National League for Democracy.
Prior to her first house arrest in July 1989, Aung San Suu Kyi herself travelled to Northern Rakhine and patronized local NLD chapters in the predominantly Rohingya areas.
Rohingyas saw new rays of hope in the burgeoning opposition movement with Suu Kyi as the most popular, if untested leader.
A pattern of exodus-repatriation-lull began to emerge.
It was during this period of lull that Rohingyas came to be subjected to the emerging genocidal conditions of life ...
As early 2006, these structures of repression and the resultant genocidal conditions, that is, conditions that have in effect made life for the Rohingya population nearly impossible, were noted in the dispatch, marked "Confidential" and dated February 20, 2006, sent by M. Kairuzzman. Bangladesh's ambassador in Rangoon, to the Foreign Secretary in Dhaka. After the site visit under the U.N.H.C.R. auspices to Northern Rakhine with its 97 percent make-up of Rohingyas, Ambassador Kairuzzman wrote:
Eleven years on, these man-made conditions have remained in place.
These inhuman conditions and structures of direct repression by Myanmar security troops have also been a major factor behind wave-like streams of Rohingyas fleeing Myanmar.
After the ten-year lull since the second cycle which ended with the second repatriation of Rohingyas in 1994-95, the communal riots broke out in several towns in Rakhine state in June and October of 2012.
It is noteworthy that on the eve of the communal riots in June, there were two significant developments, which caused, without a doubt, concerns among the military leaders.
Myanmar's official narrative about the violence and exodus has again shifted from one of "illegal immigration" to "communal violence" between the two mutually hostile local Buddhist and Muslim communities, with a long history of violent clashes dating back to the World War II era.
Overlooking the previous waves of state-organized violence and repression of 1978 and 1991-92, influential external players such as ICG, U.N. agencies, the E.U. and various foreign governments began to promote a new "democratic transition" narrative that the "sectarian violence" in Rakhine was an unfortunate but almost inevitable part of a transitional process during which multi-ethnic societies undergo liberalization. But this narrative of the overwhelming violence against Rohingyas is contradicted by the policy-induced cycle of violence-exodus-lull, which dates to the time during which the country was completely closed off from the outside world and ruled tightly by the military junta with no signs of political or economic liberalization.
However, this narrative has been very well-received by the public in Burma, as well as Aung San Suu Kyi herself. Through this "Myanmar war on Muslim terror" narrative, the Burmese military has not only burned down thousands of Rohingya homes in nearly 300 villages in the region of N. Rakhine stretching over 100 kms. in length but it has destroyed the predominantly Buddhist society's demands for human rights for all, greater freedom and further democratization.
Today, there are more Rohingyas outside of their ancestral borderlands of Myanmar and Bangaldesh than inside. The exact death toll of Rohingyas, both men and women, children and elderly, will never be known. For the loss of two dozen police, Myanmar has inflicted overwhelming and pre-planned violence and terror against the virtually helpless and unarmed population. In the virtual world of Burmese language Facebook individual Burmese soldiers have boasted that they have slaughtered a large number of Rohingyas while Bangladeshi authorities estimate the death toll to be several thousands.
On October 27, 2017, the three-member U.N. Fact Finding Mission issued a brief official statement upon completion of their week-long visit to Bangaldesh where they interviewed scores of Rohingya refugee out of a total of 600,000 new arrivals. In the words of the mission's leader former Indonesian Attorney General Marzuki Darusman, "We have heard many accounts from people from many different villages across northern Rakhine state. They point to a consistent, methodical pattern of actions resulting in gross human rights violations affecting hundreds of thousands of people." Mazzuki was also quoted as saying the number of Rohingya killed (in the most recent wave of Burmese state-directed violence) may be "extremely high."
This Mission's one-page statement came on the heel of a damning field report (September 13-24, 2017) by the U.N. Office of the High Commissioner for Human Rights (O.H.C.H.R.), which states:
Whatever one may choose to call name of Myanmar's persecution of Rohingyas, "genocide,""crimes against humanity," "ethnic cleansing,"one thing is beyond dispute: Burma's military and local Rakhine non-state collaborators have been engaged in the cycle of violence-expulsion-destruction-exodus-lull of biblical volumes over the last 39 years since the first large-scale centrally-organized campaign of terror against Rohingyas. Only Burma's official pretexts and the methods of destruction have evolved, but the devastating impact on both the lives of individual Rohingyas and the existence of Rohingyas as a distinct ethnic community remains constant.
International lawyers, U.N. officials and world leaders may and do debate as to whether Myanmar's mass atrocities constitute the crime of all crimes, a genocide. But over one million Rohingya refugees, displaced in Bangladesh, Saudi Arabia, Pakistan, Malaysia, India and other countries and the smaller number that are being trapped inside Northern Rakhine State between the unwelcoming world and the hateful Burmese society do not have the luxury of deciding what to call the crimes they have been subjected to for nearly 40 years.
Alas, as the diagrammatic waves of terror-exodus show, the mythical international community has once again made a mockery of the rally cry against genocides "Never again!"